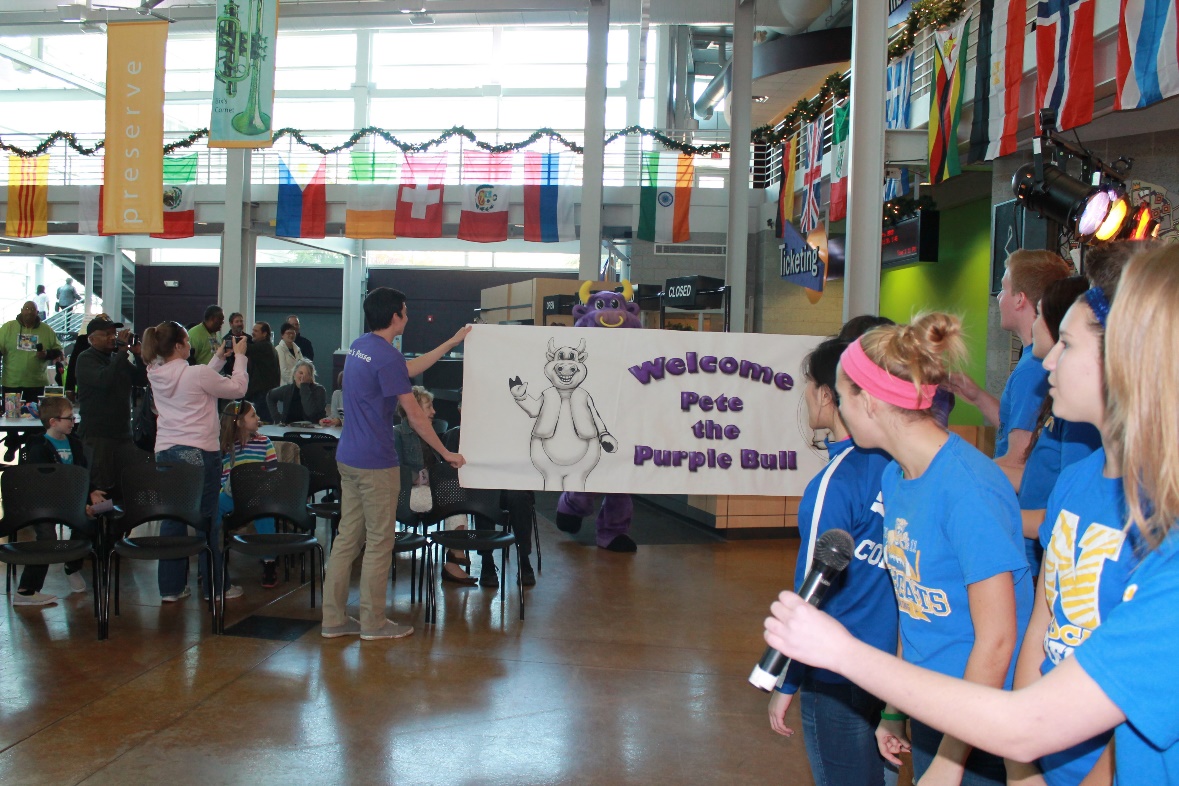 History of Pete the Purple Bull & QC United
BEGINNING: QC United was founded as a non-profit organization in March 2009, by Ruben Moore Jr. and Kim Riley-Quinn. Prior to officially founding this organization, Ruben had been working for years to expand college scholarships for Quad City area youth through a program he created called "Swing into Education". Kim was devoted to increasing understanding and connectedness in the community by providing an event she started called Unity Day. The decision was made to join forces because both saw a need to support the academic and social needs of underserved youth in the area and both believed that forming a non-profit could increase their ability to positively impact many more students and families.

QC United was established as a volunteer-based non-profit organization overseen by a Board of Directors. Many community partnerships were cultivated that included local school districts, colleges, other community organizations, businesses and City entities. These partnerships made it possible to interact with more youth while minimizing costs and staffing needs.

Growth over the years: The Swing into Education Scholarship Program continued to grow to include matching-fund scholarships with five area colleges. These five scholarships, along with an additional scholarship named the Reece Morgan Community Scholarship, were presented each year to Quad City high school graduates. (QC United created the Reece Morgan Community Scholarship to honor Coach Reece Morgan, a man who had served as a mentor to many youth in the Quad City area.)

Unity Day grew into Unity Festival, which was an annual free Quad City event featuring multicultural entertainment and a wide variety of activities. The event brought children and families from four cities together to celebrate the many talents and strengths of local youth and to promote acceptance and understanding between diverse groups of people.

Pete's Debut: The debut of Pete the Purple Bull occurred in October, 2013 while at a Unity Festival event at the Putnam Museum in Davenport, Iowa. Pete was created as an original character, under the direction of Kim Riley-Quinn and Ruben Moore, through the QC United organization. Their efforts resulted in Pete the Purple Bull; a fun-loving character who provided an innovative way to engage students in essential social/emotional lessons and who promoted a Bully-free environment. Pete was an immediate hit in the Quad City community.

Past Programs: QC United created and hosted a variety of events, besides just the programs they are known for today. Some of the most notable ones include:

Dreams Come True Program: QC United developed the Dreams Come True Program to provide at-risk students the opportunity to participate in educational field trips to locations around the country. The goal of this program was to provide students with new educational experiences that would encourage them to "dream big" regarding their future personal and career goals. For five years in a row, QC United took 30 to 35 students on trips to Orlando, Florida, Chicago, IL, St. Louis, Missouri, Washington DC and New York City. The program was highly praised by students and families but it was eventually discontinued due to the high costs and the on-going funding challenges.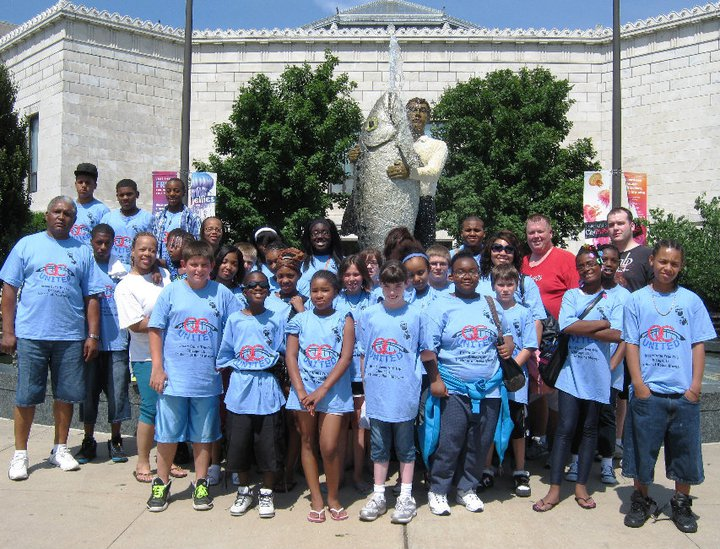 World of Work Symposium: Over the course of five years, QC United, in partnership with the Stanley Foundation, provided an annual day-long symposium for high school students that allowed them to interact in small group settings with a wide variety of professionals from the Quad City community. Students had an opportunity to learn about careers of interest to them and were encouraged to ask questions of the presenters. Presenters highlighted the social skills needed to be successful in the workplace, as well as the necessary academic skills. Arrangements were made with area high schools for students to be bussed to and from the event.