Pete's Grand Plan – the Book
Pete's 1st Children's Book

A brightly illustrated, large hardcover Book written in rhyme form with an Anti-bullying theme.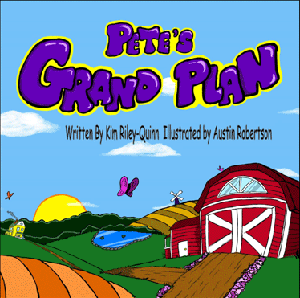 Written by Kim Riley-Quinn  Illustrated by Austin Robertson

Kids, teachers and parents are raving about Pete's new book!
Pete's Grand Plan is a brightly illustrated hardcover book (10in by 10in) written in rhyme form. It's the story of how Pete helps his friend Gracie through a difficult Bullying situation at her school. In the process, Gracie discovers her own strength and her classmates and teachers discover the important role they play in creating a safe and welcoming school for everyone. Pete's book provides a fun, interactive reading experience with a solution-focused approach for kids, parents and teachers.I
GIVE THE GIFT of READING! Buy books for your family or friends or DONATE BOOKS to schools and community organizations.
Pete's Lesson Plans Coming Soon!
Pete's Grand Plan teaches important social / emotional skills