Pete the Purple Bull
Pete the Purple Bull is dedicated to promoting positive social/emotional skills in schools and communities by offering a wide variety of interactive learning experiences. Pete knows that when people practice these skills, Bullying disappears. Pete also knows that these skills are essential to creating and maintaining safe and welcoming schools and neighborhoods.
Pete the Purple Bull is an entity of QC United, a 501©3 Organization
Mission: Through multiple community partnerships, QC United's Pete the Purple Bull Program  provides youth with educational experiences that strengthen social/emotional skills essential to developing and sustaining responsible social interactions across all settings.
Pete's Grand Plan – the Book
Pete the Purple Bull announces his first Children's Book!
Arrives November 20th, but you can order now and save 20%!
GIVE THE GIFT of READING! DONATE BOOKS and PETE WILL MATCH YOUR DONATION BETWEEN NOW AND CHRISTMAS EVE! Pete will match donations up to $5000 which will provide 530 FREE books to students. You can even choose the school and the classroom that receives the books, if you wish!
Pete's brand new book; Pete's Grand Plan, teaches lessons about self-care, the power of kindness and strategies to prevent Bullying. This is a hardcover, 10in by 10in colorfully illustrated book written in rhyme form. Students, parents and teachers are sure to love it! Order by following this link: https://secure.blueoctane.net/forms/M7D6V3I8RYXF
Pete the Purple Bull Partners with RE-FL3X
Pete the Purple Bull partners with RE-FLEX; A Hip-Hop dance troupe led by Juan Valtierra; a community leader, youth mentor, artist and dance instructor. Dance classes are offered through the dance studio located at 1411 Brady St. Davenport, Iowa. More about Re-FL3X.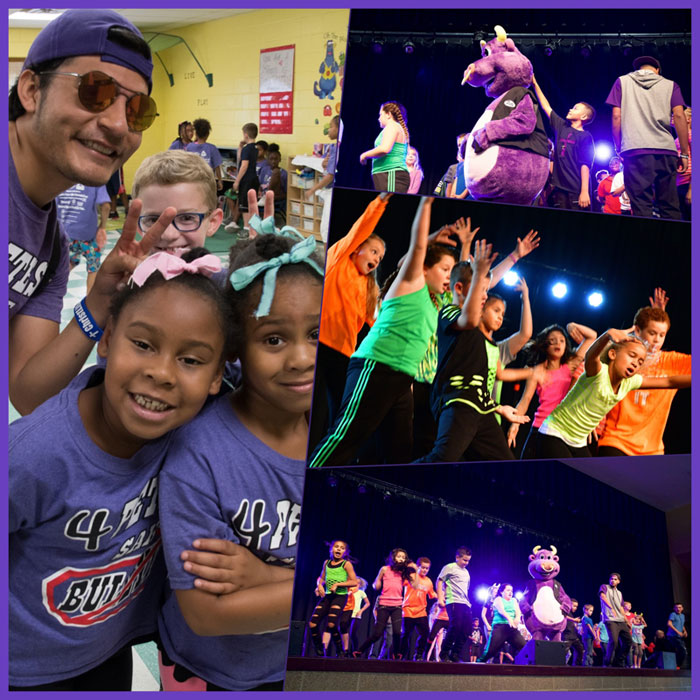 Pete Garden Flags