Pete is back!
Pete is venturing out into the community so be on the lookout!

He could be anywhere. Look for him in your neighborhood or school.

In the meantime, continue to take good care of yourselves and remember to show respect and kindness to others.
Details for the Helping Hoofs Program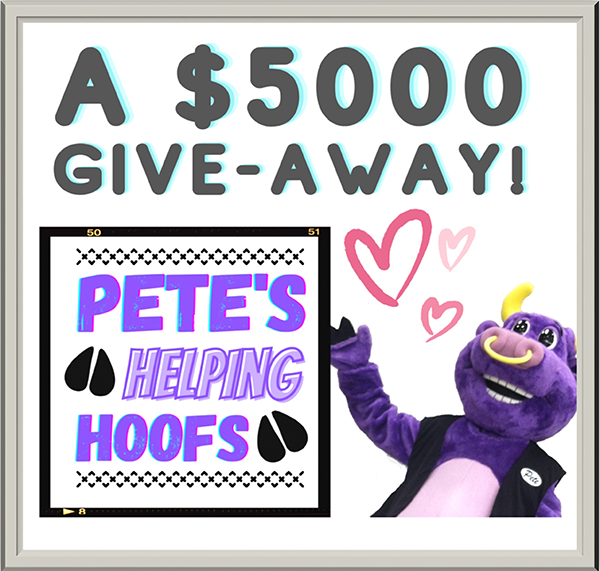 Pete & his team are all too familiar with the struggles school groups and small nonprofits face when trying to fund their programs. Pete's solution? Pete is offering nonprofits and school groups the opportunity to raise money through cash give-aways periodically through-out the year. They win, Pete wins & YOU could win too!
The cash giveaway begins the first part of April each year. Funds raised will benefit Pete's bully prevention programs as well as numerous local community and school projects. One lucky person, after donating $10 to this effort, will win $2000!! There will also be one $1000 winner & four $500 winners!
The drawing will take place at the Annual Swing into Education Golf Tournament sponsored by Pete the Purple Bull and held at Duck Creek Golf Course in Davenport, Iowa on Friday, June 16th, 2023.
How did the Helping Hoofs Program originate?
The Pete the Purple Bull Program is an entity of QC United, a charity organization that has been providing a variety of community programs in the Quad Cities since 2009. A few of these programs include: 1) a scholarship program that has served well over 100 QC high school graduates, 2), the Dreams Come True program that provided educational trips to at-risk students and 3), Pete's Bully-Prevention Programs that serve QC schools and communities.
The concept for Pete's Helping Hoofs Program was first piloted when Pete joined with the Lincoln Resource Center in Davenport, Iowa in the summer of 2021 for the 1st Annual Summer BBQ. This event raised over $4000 for the Lincoln Center while also supporting Pete's Bully Prevention Programs.
For a chance to win, you can make your donation here
More about Pete the Purple Bull...
Pete the Purple Bull is the face and official Brand for QC United, a non-profit organization. Pete the Purple Bull is dedicated to promoting positive social/emotional skills in schools and communities by offering a wide variety of interactive learning experiences. Pete knows that when people practice these skills, Bullying disappears. Pete also knows that these skills are essential to creating and maintaining safe and welcoming schools and neighborhoods.
Pete the Purple Bull is an entity of QC United, a 501©3 Organization
Mission: Through multiple community partnerships, QC United's Pete the Purple Bull Program  provides youth with educational experiences that strengthen social/emotional skills essential to developing and sustaining responsible social interactions across all settings.
Pete the Purple Bull & the QC United organization also supports Higher Education by providing college scholarships to graduating high school students. This year marks the 20th Anniversary for Pete the Purple Bull's Scholarship program and annual golf tournament. Pete and his team have some special events planned to celebrate this very special year.