Pete the Purple Bull
Hi Friends! Welcome to my page!
Here, you will find information about my school programs and upcoming events.
My mission
is to help youth
effectively and responsibly navigate the social world
by teaching and cultivating positive social/emotional skills that support safe, nurturing and inclusive environments for ALL residents.
Want to help support this mission?
Check out our Mid-Level to High-Profile Sponsorship Options
SCHOOL PROGRAMS
---
I have been having a great time visiting schools and neighborhoods, meeting awesome new friends, just like you. Many kids, teens and grownups have joined my "Bee a Good Neighbor" Campaign to end Bullying. You are invited to join too. I have discovered that the more we work together, the stronger WE become. When we treat ourselves and others with respect and kindness, and remind others to do the same, WE
CAN
MAKE BULLYING DISAPPEAR.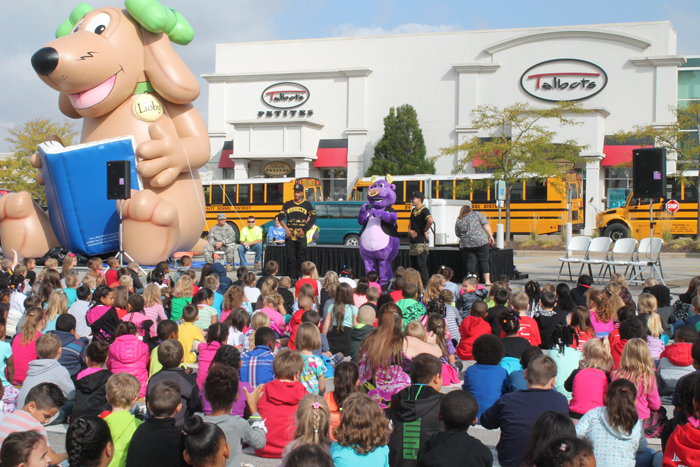 I travel with my best buddies, Juan and Curtis, the awesome hip-hop dance duo who make up RE-FL3X. Together, we teach lessons about personal responsibility and respect through music, stories and dance. The Posse sometimes joins us too. They are young, talented dancers and musicians who bring lots of energy and excitement to our positive message.
We'll be traveling to neighborhoods and schools looking for people to join our Posse. YOU are invited to join too…if you BEElieve in the words of the three wise BEE's:


BEE respectful and kind to yourself


BEE respectful and kind to others


BEE respectful and kind to the World within which you live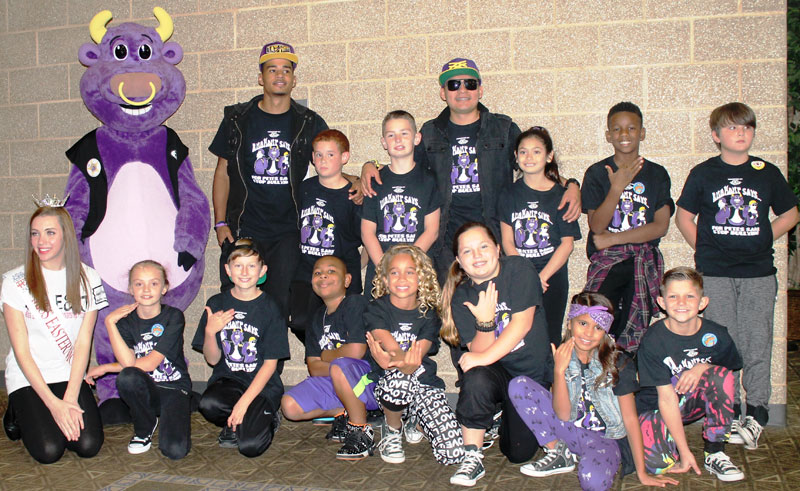 CHECK OUT THE VIDEO OF THE AWESOME DANCE!
Learn more about my school programs here!
Call my friends at QC United (855-485-4445) to schedule a Pete the Purple Bull appearance at your school or community event; or email Kim at kim.riley@qcunited.org
SPECIAL EVENTS
---
Get Race Information HERE
Come for my 4TH Annual Awesome Party to help me celebrate all the good things happening in the Quad Cities to ensure our multi-city community is welcoming and safe for everyone. You'll enjoy an afternoon of free family entertainment, games, art activities and special treats.
A SLIDESHOW OF THE AWESOME PARTY
Upcoming Events
QC United
September 16th
1pm QC Reading Adventure sponsored by
the QC Times. Pete and his Posse
share anti-bullying information and perform
some Hip-Hop Dance.
September 22nd
8am NAMI Walk. Pete is there cheering the
Walkers and psoing for pictures.
September 27th
Grape Life Fundraiser 6pm. Enjoy wine tasting
And appetizers while supporting Pete's anti-
Bullying programs.
October 13th
9am Run with the Bull 5K and Youth Relays (10am)
Modern Woodmen Baseball Stadium
Davenprot, IA sign up at: GetMeRegistered.com
October 18th
6pm to 9pm Margarita Mix-Up
RiverCenter, Downtown Davenport, IA
Fundraiser featuring 6 flavors of margaritas and
Six restaurants competing for best tacos. Learn More
October 21st
1pm - 4pm Pete's Awesome CommUNITY Party
Waterfront Convention Center, Bettendorf, IA
(a FREE family festival)

6:30pm - 10pm The Kindness Rocks Concert
Waterfront Convention Center, Bettendorf, IA
12 and under free. Adults $12
November 3rd
2pm Pete's Grand Plan - The Musical.
North High School Auditorium, Davenport, IA
Tickets: Children (under 12) $6 Adults: $12
November 4th
2pm Special children's "Meet and Greet" Package
For Pete's Grand Plan - The Musical Children &
parents will enjoy pizza and ice cream, Face painting,
pictures with Pete and his farm friends, and some
crafts. Price also includes a ticket to the show.
Tickets: Children (12 and under): $15 Adults: $17