Margarita Mix-Up
Tickets are just $40 in advance or $50 at the door. A VIP Table for 8 is $440 and includes a surprise for each guest.
Includes the best Mexican food in the Quad Cities
Six varieties of Margaritas (other beverage options are available too!)
Music by Crooked Cactus
Nacho Bar
YOU select the best traditional taco and best street taco
Piñata Contest
Your participation supports anti-bullying educational programs in area schools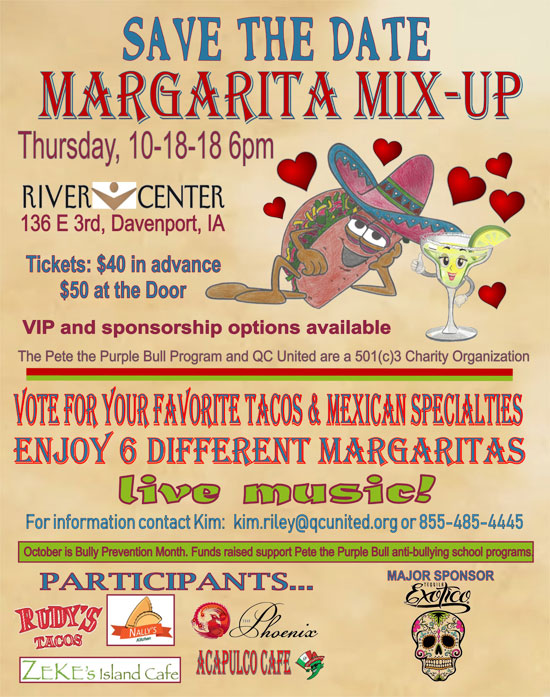 Upcoming Events
QC United
September 16th
1pm QC Reading Adventure sponsored by
the QC Times. Pete and his Posse
share anti-bullying information and perform
some Hip-Hop Dance.
September 22nd
8am NAMI Walk. Pete is there cheering the
Walkers and psoing for pictures.
September 27th
Grape Life Fundraiser 6pm. Enjoy wine tasting
And appetizers while supporting Pete's anti-
Bullying programs.
October 13th
9am Run with the Bull 5K and Youth Relays (10am)
Modern Woodmen Baseball Stadium
Davenprot, IA sign up at: GetMeRegistered.com
October 18th
6pm to 9pm Margarita Mix-Up
RiverCenter, Downtown Davenport, IA
Fundraiser featuring 6 flavors of margaritas and
Six restaurants competing for best tacos. Learn More
October 21st
1pm - 4pm Pete's Awesome CommUNITY Party
Waterfront Convention Center, Bettendorf, IA
(a FREE family festival)

6:30pm - 10pm The Kindness Rocks Concert
Waterfront Convention Center, Bettendorf, IA
12 and under free. Adults $12
November 3rd
2pm Pete's Grand Plan - The Musical.
North High School Auditorium, Davenport, IA
Tickets: Children (under 12) $6 Adults: $12
November 4th
2pm Special children's "Meet and Greet" Package
For Pete's Grand Plan - The Musical Children &
parents will enjoy pizza and ice cream, Face painting,
pictures with Pete and his farm friends, and some
crafts. Price also includes a ticket to the show.
Tickets: Children (12 and under): $15 Adults: $17